This is not a website with staged before and after photos of fine furniture and antique restoration projects. These are photos of work in process and the steps toward completion. Frequently projects take creative ingenuity to reassemble. I enjoy rebuilding furniture and restoring antiques. It's one of the things I really do the best. Most of what is brought to my shop is well made and nice older pieces with treasured family history. Several of these antiques have been neglected, poorly maintained and over time often previously repaired, although unprofessionally. Their owners want to give them a new life to honor their heritage so that the furniture can be used and enjoyed by themselves and the next generation to whom they will pass them onto.
I take on small furniture refinishing and antique restoration projects. Oftentimes the items are worn and badly depreciated pieces which require special attention to restore the antique patina and charm. I'm a professional artist and have a love of beautiful woods.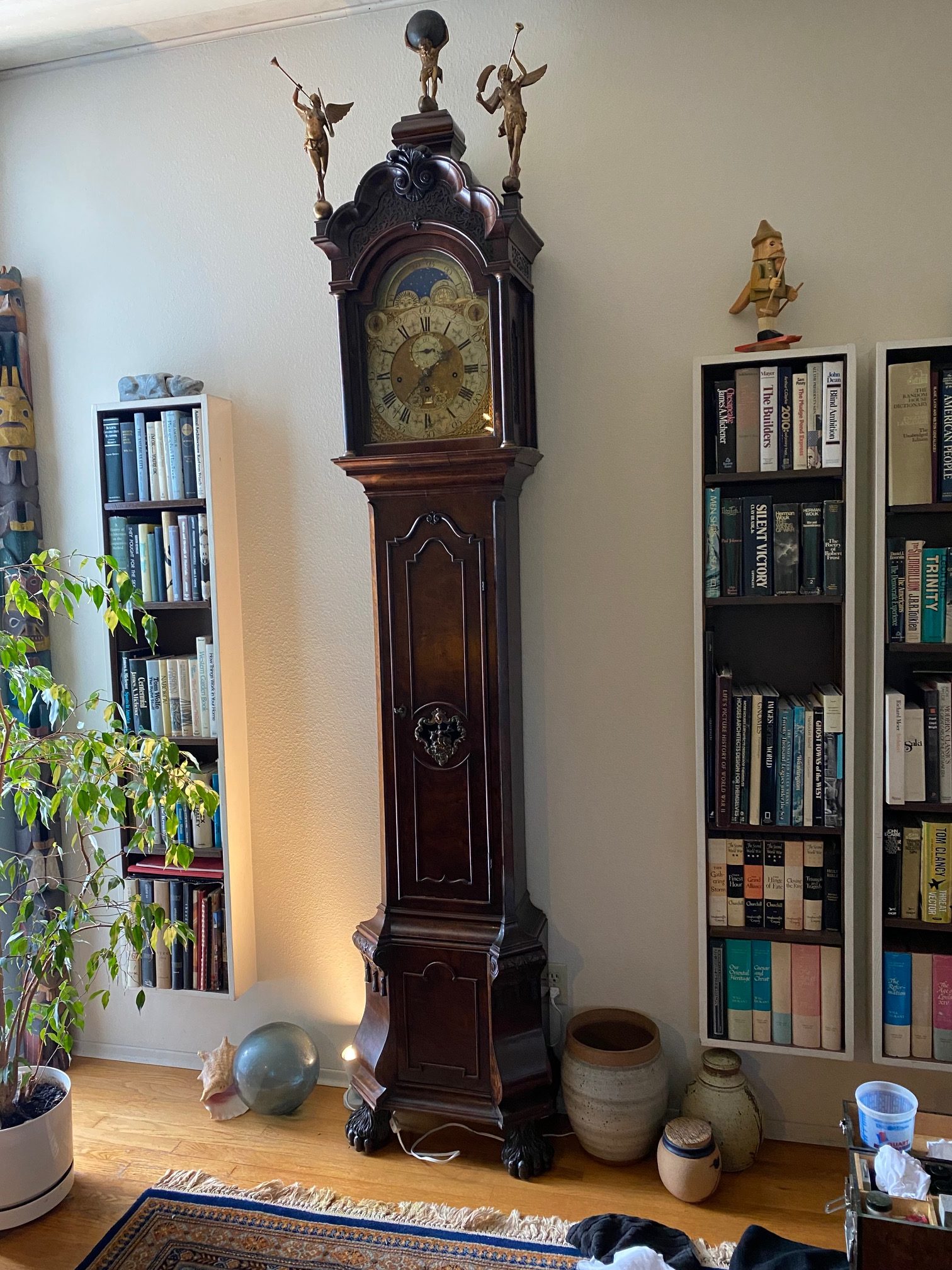 1850's German Grandfather Clock – Clock Case Restoration
This clock has been in the family for several generations. For the past one hundred years in an apartment in New York City, it has survived extreme heat, humidity and an environment with heavy cigarette smokers. The three figurines on the crown have been unprofessionally repaired. Various broken parts were commonly reattached with airplane model cement and touched up with mis-matched gold paints. It was time for a clock case restoration.
Besides the ones that had fallen off, I detached all the poorly reglued limbs. The old glue was scraped off and then the parts refitted and reglued using a high-tech cyanoacrylate adhesive. Every joint was drilled out and a wire pin was
inserted for strength. A polyester resin was used to fill-in missing fragments and crack lines. The repair areas were delicately sanded smooth to the correct contour.
Decades of environmental contamination nearly ruined the original gold leaf finish but as much of this that I could preserve was rejuvenated. All the other parts of the figurines were refinished in a matching antiqued goldleaf finish.
With proper care and maintenance, these parts will be enjoyed by the next several generations for this family.
Longcase Grandfather Clock – Rebuilding and Clock Case Restoration
Kip Hart brought this longcase grandfather clock to my shop for rebuilding and restoration. In 1958 his grandparents were vacationing in Europe and while on a layover in Scotland, they went antique shopping. In Glasgow at the Ernest Alexander Antique Shop they purchased three grandfather clocks for their family. From his grandparents, Kip inherited this longcase clock made by Robert Rose of Dublin. This clockmaker passed in 1769. Kip's grand and great grandparents were all engineers. They moved from New York City to Baltimore and recently Kip moved to Kent, Washington to start his new engineering job. Unfortunately his movers did not properly prepare this clock for moving and it was busted apart.
Its not often that I have the opportunity to restore such an old and beautiful piece like this. What a treasure! Particularly with the lower section, I took the case almost completely apart. The case was carefully reassembled and the finish restored. This project was a complete rebuild and clock case restoration.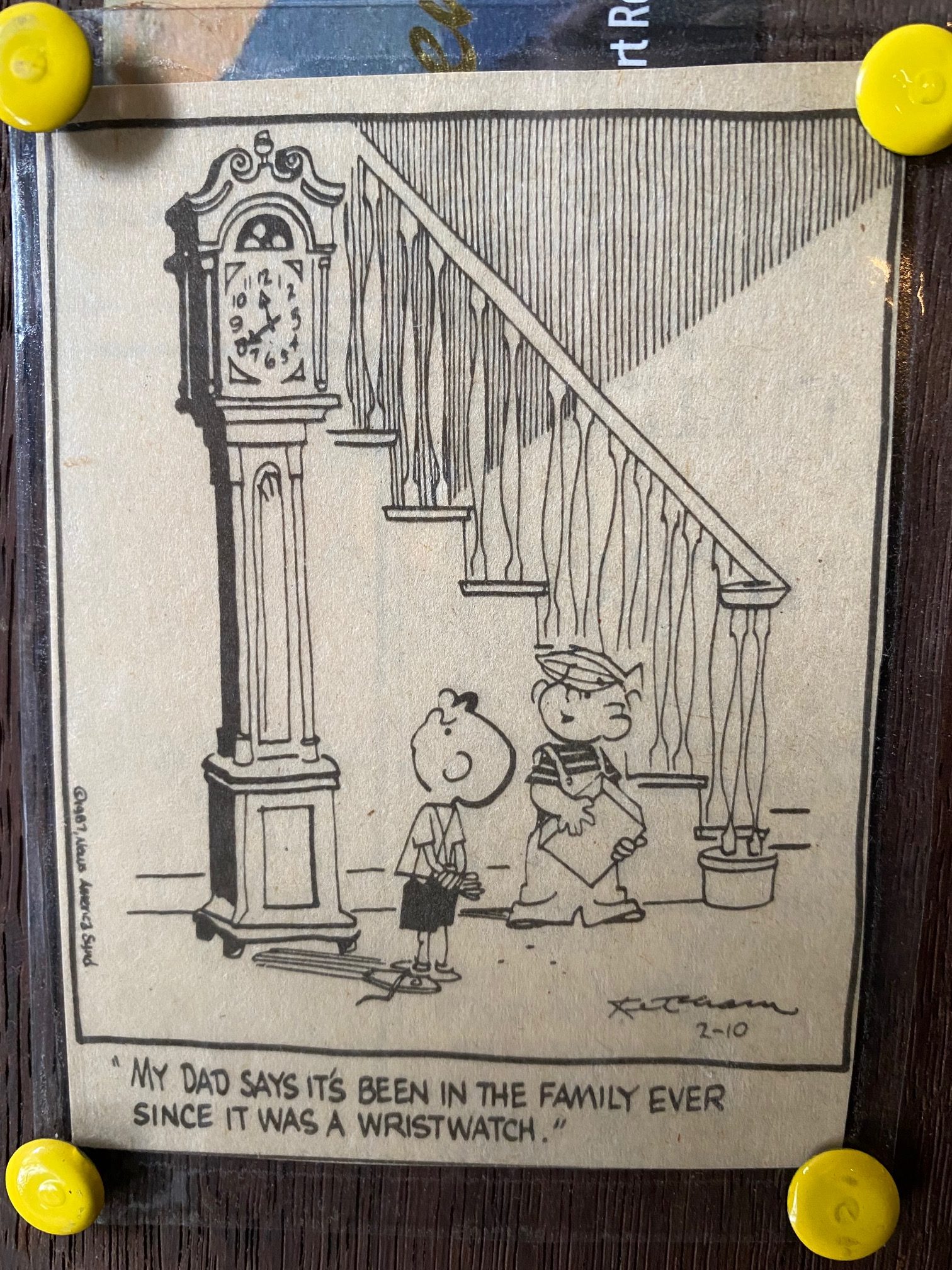 Ray Spencer is the epitome of professionalism and a true master craftsman. We have known Ray for over a decade and we couldn't imagine calling upon someone else when it comes to touchup work. Ray takes the time to educate and explain the process to his customers. In turn, this establishes trust in his workmanship and sets the stage for the remainder of the project. In all our time working with Ray, we have never received feedback of a job not completed to a customer's satisfaction. Ray is a joy to work with and we are very thankful for his services.
Refinished 1950s Youth Bedroom Set
Other Regluing and Repairs Photos