I've been doing in-the-home furniture touchup and repair for 50 years — not as a sideline but for the most part, four or five days a week, year after year, going into customers' homes and repairing nicked, scratched, and gouged furniture. Most my work is servicing damage claims for the movers, but very often, I'm called directly by the homeowner to provide my services.
In most instances, I'm able to fill in the gouges, level the damage areas smooth, and then spot refinish the area so that you practically cannot tell the item was ever damaged. The repair will look just like the original finish.
I specialize in repairing high-gloss finishes and polyester finishes on pianos. Other than move damages there are often home accidents which leave the furniture in disrepair: dogs chew up furniture legs, water spills, and heat damage. Unfortunately, other service technicians drop their tools on your prized furniture and housekeepers crash the vacuum into the edge of the table top. Most of the time, I can correct these problems on an in-the-home service call.
The New Artist's Repair Box
Custom-Designed and Built by Ray Spencer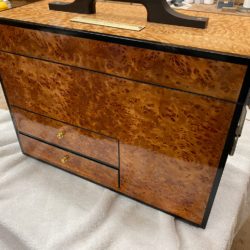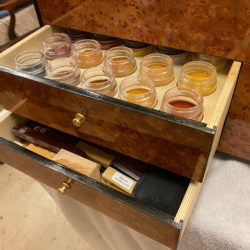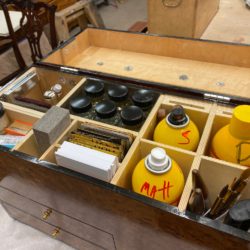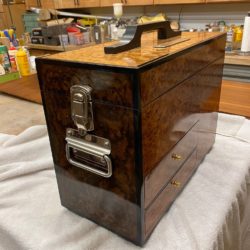 There are always the loose joints on the dining and kitchen chairs, loose arms, and broken drawers. These items must be reglued, rebuilt, or refurbished. In my woodworking shop, I have all the clamps and machinery to provide these services, including making replacement parts.
Many customers bring these small projects to my workshop. Please call ahead for an appointment.
I started my career as an apprentice in an antique repair shop and then advanced onto journeyman work for a cabinet maker. Antique or modern, new or old; I am very qualified to repair all kinds of furniture.
I suggest sending photos of the repair project to my email address and I will promptly reply with my comments and approximate repair estimate. Shop hours are by appointment only.
Thanks!
My piano was damaged by a moving company. They put me in touch with Ray Spencer and he went to work. A big gash tore off some veneer on the case… visible to the left of the keyboard. Really ugly, and I thought, unlikely to be saved without showing a blemish. Not so. Spencer first showed technical skill with the most modern materials. He patiently and meticulously built up layer after layer of quick drying materials. He made the surface as smooth as the original. Then came the real magic. He is an artist, so he was able to make a perfect color match. My Steinway was not the usual black, but instead a light brown with wood grain highlights. First he got the brown exactly right; then he added wood grain features. The blemish vanished. No one can notice any damage. His experience in painting with watercolors, and his knowledge of modern plastics makes him the best repairer of surface damages I can imagine.